Our Outreach Unit works throughout the year with community groups and high school counselors and administrators to bring information about college financial aid to prospective students and their parents. We coordinate Financial Aid Sessions, visits to local high schools, college fairs, events in the U-M Detroit Office and participate in on-campus activities in Ann Arbor. The team also hosts regular office hours in the U-M Detroit Office where we meet one-on-one to assist local families.
Upcoming Virtual Presentations
Prospective, college-bound students are invited to attend a U-M Financial Aid Session to learn more about financial aid, the application process, what to expect, and next steps planning. After the event, we will be sharing links to helpful videos and resources that will be helpful to every student applying to college. You can RSVP for your session here. Please direct all questions to ofa-outreach@umich.edu.
Schedule a Presentation or Event
Top
At this time, we are offering both in-person and virtual event support. Please indicate the type of support needed in all requests.
Our office has a variety of presentations to help students and families prepare to tackle the college application cycle. These include a three-part "Paying for College" series designed to give high school seniors an overview of what to expect when they plan for college. The Federal Student Aid Financial Aid Toolkit may also give you ideas for an event at your school. Complete this form to schedule a presentation for your school or community event.
---
Community & High School Resources
Top
Here are resources available for PDF download to share or print for your high school or community event. If you will be printing in black-and-white on colored paper, please use the B&W versions provided. We recommend that you download these to your computer or device and print directly from the PDF, not print from your browser viewer.
Find out how to navigate Wolverine Access, U-M's secure student portal
What steps do your students need to take to prepare for and apply to college? This checklist offers step-by-step guidance.
This one-page guide offers tips for each year of high school as you look to a future in college. It also features some key questions to ask about admissions, financial aid and life on campus.
This guide offers a list of some current scholarship opportunities and tips for applying for scholarship money.
---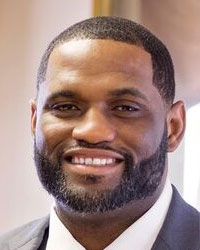 Stephen Nabors
Assistant Director for Outreach
snabors@umich.edu
Stephen leads our Outreach Unit with his 20+ years of customer service experience and 10+ years of supervisory experience in both the public and private sectors. Stephen's advocacy for access and affordability in higher education fuels his passion for financial aid outreach. He is very appreciative of his role in helping provide and support financial aid outreach programs to help assist under-served and under-resourced students and families with a successful navigation of the financial aid application process.